MEGAVIATION (FZC)
SETTING THE STANDARD OF RELIABILITY AND SAFETY
FIXED AND ROTARY WING CHARTER SERVICES

Who We are
Based at Sharjah Airport International Free Zone (UAE) with subsidiary aviation company MEGAVIATION (SRL) (Moldova) and representative office in Kabul, MEGAVIATION is a privately owned company specialized in rotary and fixed wing services in support of various projects:
• Construction and Infrastructure
• Mining and Agriculture
• Emergency medical evacuations
• NGO and Governmental institutions projects
Our Main Assets
The fleet of MEGAVIATION is currently composed of five Mi-8MTV and three Mi-8T helicopters.
Fixed wing aircrafts Cessna-421B,
L-410UVP, AN-24 and AN-26 can be available upon Client's request.
Most of our crew members and technical staff are Ukrainian nationals working since 2004,
With thousands of flight hours currently logged. They bring this experience to each and every mission.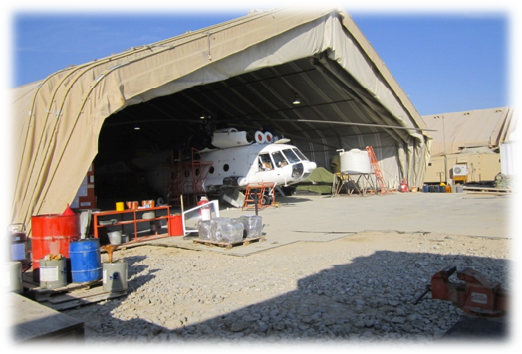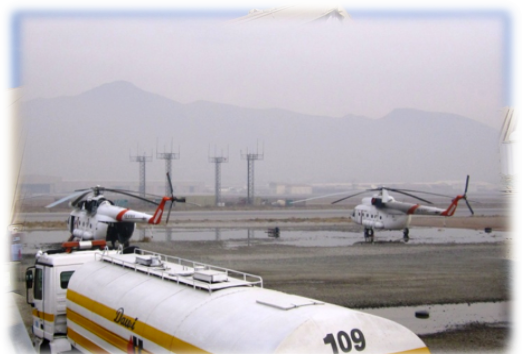 We Keep Our Aircrafts in Excellent Condition
MEGAVIATION performs its own current repairs and periodic maintenance (up to every 300 flight hrs) of the aircrafts, adhering to PART 145 requirements
We track all incoming spare parts & units By means of special manufacturer software allowing us to screen the authenticity of the Equipment.
Safety Management System
At MEGAVIATION we are committed to providing quality service and put safety as our first and foremost priority.
We operate with strict adherence to all legislative, Customers and Companies standards and Industries standards.
All operations comply with the standards defined in the applicable Aviation Regulations, Operations, Quality Control and Maintenance Manuals.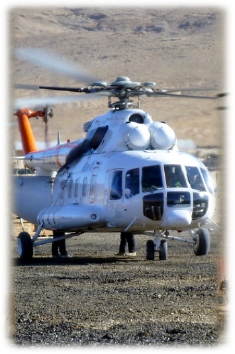 Megaviation "Helicopter Maintenance Services"
As a CAA Part 145 approved aircraft maintenance organization, "MEGAviation" Helicopter Maintenance Services, holder of RM CAA Part 145 Approval Certificate # САА RM 0015, specializes in the maintenance and repair of Мi-8 (Мi-17) helicopters.
The company holds CAA RM approvals for various types of technical services and jobs, including helicopter units and components maintenance and repair, but excluding overhaul.
"MEGAviation" Helicopter Maintenance Services is ready to provide a range of service levels for line maintenance, intermediate and heavy maintenance, dispatch experts onsite, or accept your rotorcraft at own certified center fully equipped with necessary tools and instruments, laboratories and store rooms, hangars and warehouses, the professional staff certified and trained at EASA approved centers to the highest standards of quality and safety. Our dedicated service personnel, technicians and partners are the backbone of our helicopter maintenance company, and we've got some of the best you can find in the industry.
Whether you are looking to upgrade your avionics to the latest equipment or complete a minor modification to keep up with changes in regulations, "MEGAviation" Helicopter Maintenance Services can help.
We offer a complete line of maintenance and repair services in accordance with Original Equipment Maintenance (OEM) and EASA standards in collaboration with major international suppliers and manufacturers.
Our knowledge and experience means you can have "MEGAviation" Helicopter Maintenance Services manage the continuing airworthiness and maintenance of your rotorcraft giving you the peace of mind that it is airworthy and is legal to fly. Every rotorcraft, every rotorcraft repair and every job is inspected and double checked before it leaves our service center.
*The company holds CAA approvals for Мi-8 (Мi-17) helicopters as detailed on our CAA 145 Approval Schedule which.
If you want to receive the list of services and solutions we offer, please contact us at info@megaviation.com, and our representative will get in touch with you as soon as possible.

A Glance Into the Future and Beyond
At MEGAVIATION we have a vision of making flying possible for the private sector and the public sector. With the route network that spans over 50 destinations throughout Afghanistan, we continue to pave the way for low-cost aviation through our innovative solutions, efficient management and passionate approach to business.